Let's have a little history lesson, shall we? I recently was made aware that corned beef and cabbage is not something that they traditionally eat in Ireland. -- Say whaaat?
This boiled dinner was a delicacy back in the olden days - beef was hard to come by. It was super expensive, so it was typically exported to the rich and famous due to the poverty in Ireland. Back then, a boiled meal would have had either bacon or ham instead of the corned beef. That luck of the Irish all changed when they came to the United States.
When the Irish got here to the US (where they were so readily welcomed), they found that beef was more readily available (and affordable) - and so began the love affair that makes me such a happy little Irish lass one day a year.
St. Patrick's Day 2013 celebrations included:
Friday- fish and chips, Guinness, and Irish Car Bombs and "Pedro O'Leary" shots at McLadden's with my CFS chicks
Saturday- micro-brews and good food at the Van Dyke with my dipsy doodle and favorite sister
Sunday- Guinness, corned beef and cabbage with the fam, and parfaits with Bailey's. Mm.
They didn't call me Coleen McPhee for nothin'
Until next year........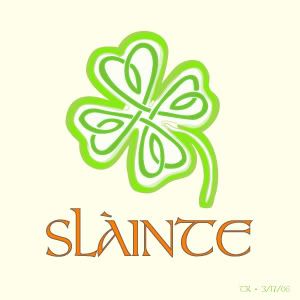 "Recipe" of the day:
Corned Beef and Cabbage
-------------------------------------------------------
Laugh much, cook often, and always wear stilettos
xoXO ~ Coleen
-------------------------------------------------------